Beshara Magazine recently published an article by Nicola Simpson about Dom Sylvester Houédard, "an extraordinary British monk, scholar, translator and concrete poet." Here, Charles Verey, author of a forthcoming biography of Houédard, reviews an exhibition curated by Simpson and including work by Houédard, as well as Kenelm Cox and Li Yuan Chia.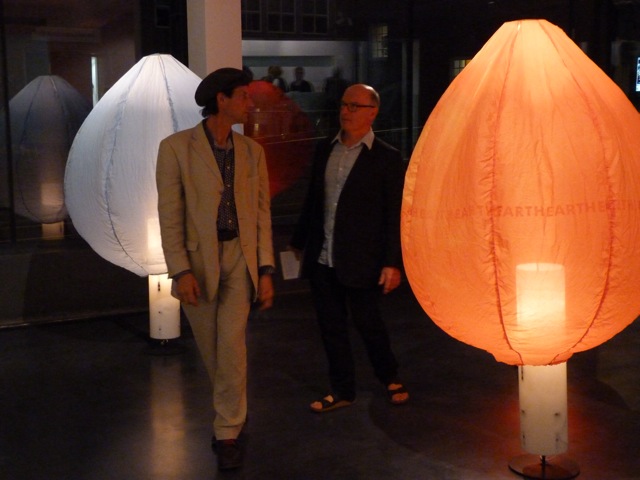 Between heaven and earth. Two of the five balloons (1968) by Kenelm Cox (1924 – 1968), in the exhibition space at Norwich. The opening was supported by the family including Jeremy Cox (left) and Paul Spence (right). Photo by Charles Verey.
Something's happening when people come from London, from Gloucestershire and Oxford – even from Dumfriesshire – and gather in Norwich for the opening of an exhibition. Performing No Thingness, at the East Gallery, owned and run by Norwich University of the Arts, explores the kinetic work of Dom Sylvester Houédard, Ken Cox and Li Yuan Chia. Much of the documentation and work exhibited dates from 1968. A simple enough calculation confirms that 48 years have passed since then.
The exhibition is curated by Norwich PhD student Nicola Simpson. Her work has not yet been published but that is no reason to see her as any less than an authority on her primary subject, the 'poemobjects' of Dom Sylvester (who referred to himself professionally as dsh). In the accompanying leaflet she explains that:
"These three artists all knew each other, sharing, for a coinciding moment in the late 1960s, an interest in the Eastern philosophies that present objects not as things but relationships, events and actions".
A work of art is empty, except in so far as it informs. Its reality lies precisely, and only, in its informing. What it informs is news of what it is and whence it comes. It is 'No Thing' because it is impermanent. As human beings we have the possibility both of informing and of being informed, and through being informed we participate in the act that the work is. And just as the work of art is empty, we are empty of independent existence: it is not that we do not exist. The work exhibited in this show is well chosen; it is just enough and no more than is necessary to demonstrate what was (and is) real and lasting in the creative spirit of the time in which its was formed. That spirit is present in the exhibition and what it asks of the visitor is simply the will to be informed. That really is all. Or if you like, just play the game. This playfulness is alluded to successfully in Nicola Simpson's short essay in the publication onos and nonos: an introduction to the book of onomasticons by dsh. (see note below)
Ken Cox's five balloons inhabit the floor space, each one floating and slowly circling over a stem that contains a glowing internal light and a silent air-fan. Made of nylon, with the exception of the white-paper, 'bright envelope', they are in "…different colours based on Chinese concept of the four elements plus heaven…red for fire, yellow for earth, green for water, blue for heaven and white for air…"
Li Yuan Chia is represented by two of his metallic sheets bearing moveable, magnetized geometrical-shaped blocks. Dom Sylvester's work occupies the main wall-space: there are two box-structures, each incorporating a reversible letter poem, one using a mirror – wind grove reversing to become mind alone – the other a shadow box in which peep becomes deep. There is also a collection of ten typestracts, each a sheet from Dom Sylvester's book of onomasticons and a print of the Ken Cox Memorial poster, produced in early 1969 by South Street Publications. These works are supported by a collection in two vitrines of letters– dsh to Ken Cox; from Ken Cox to Nicholas Logsdail at the Lisson Gallery; correspondence between dsh and Li and supplementary notation. There is ample material to illustrate the intention of the show. If, however, there is a criticism that can fairly be leveled, it is that it would help the visitor if the vitrines themselves were higher and stronger and if they used non-reflective glass.
Background
I have already mentioned that the three artists knew each other. Ken Cox was head of art at a London comprehensive until 1962, when the onset of glaucoma and an eye operation led to a move with a growing family to Kingscote in Gloucestershire. From 1962 he found part-time work at Gloucestershire College of Art, in Stroud and Cheltenham. There is a story that at an exhibition of his paintings, he overheard a child ask, "Why do those trees look like cabbages?" Whether or not it is true, there was a eureka moment, realizing that he did not have to paint paintings, but use all the resources that he recognized as true in himself: the science, the connections, the freedom of life as he experienced it.
Dom Sylvester Houédard was based for most of his life at Prinknash Abbey. In late summer 1963, on a visit to Gloucester library, he noticed an exhibition of work by the poet John Furnival and contacted him. Furnival and dsh arranged to meet at the Monk's Retreat at the Fleece Hotel in Gloucester. Whether or not the arrival of the Benedictine in a white robe and flowing black cope and with a fat black leather briefcase caused consternation in the hotel's medieval cellars, is not known. But what is known is that they arranged on the spot to start a publishing venture together, to be called 'Openings'. John Furnival, about to move on from Gloucestershire College to teach at Corsham, introduced Dom Sylvester to Ken Cox. From both Cox's and dsh's points of view, it was an inspirational meeting. Five years later the questions each asked himself were of a similar kind.
In the work that they made (as "additions to the cosmos"), dsh and Ken Cox introduced a completely new and fresh poetic expression to the modern world. This exhibition demonstrates that while remaining within the 'western' tradition as understood through what is modern and contemporary in artistic expression, they, as poets, have immersed themselves in the values of eastern spirituality. Their 'art' is therefore completely valid for both western and eastern perceptions of what it means to be human.
The Wider Ecumenism
In the late 1990s after graduating, Nicola Simpson worked for a time at the John Ryland's University of Manchester Library, Special Collections. These included archives of both Li Yuan Chia and Dom Sylvester. Encounters with their work led to her current PhD thesis titled: Rightmind-minding: The Transmission and Practice of Zen and Vajrayana Buddhist Method Practices in the poemobjects of Dom Sylvester Houédard, 1960-1975. In this title, the word 'practice' is repeated and it is augmented by 'transmission'. Though not yet published, the intention of her work is to demonstrate that Buddhist method practices are both practised and transmitted through Dom Sylvester's 'poemobjects'.
The enormity of this claim needs to be better understood and calls for a question to be asked: is there is a wider context for it? After all, the major religions over the millennia have found it necessary to reserve the uniqueness of their own faith and method for their own adherents. Buddhism, being non-theistic in contrast to the religions of the Abrahamic tradition, is open to being reduced in the minds of Christians to mere philosophy. And yet the Buddha himself, like Jesus Christ, is a historical person and commands the greatest respect through his conversion of the body/spirit duality of mankind to a perfected state, through the heart of absoluteness.
A question about how Dom Sylvester understood this dilemma of the great religions remains. How is a person who wishes to take hold of their relationship with God and with the affairs of the world to understand the unity and diversity of existence? In the event, however, the whole body of his work addresses this very dilemma, and at an early stage in his public writing he summarized his study of the truth that lies behind it as 'The Wider Ecumenism'. This phrase has been used sometimes by others from the Catholic tradition and it appears that Dom Sylvester chose it because of its somewhat grey and clerical sound: it is indeed possible to reduce it to a matter of simple dialogue between practitioners of the major traditions. But he did not intend that. What he intended is actually much closer to Nicola Simpson's thesis demonstrating the possibility of recognizing the practice and the transmission of Buddhist Method Practices in his objective poetic work.
This matter takes on its own levels of resonance in any adequate and deep consideration of a spirituality for this post-millennial century. Here it remains more to the point however to consider the nature of the dialogue that Dom Sylvester undertook with the poetry world in the 1960s. Could this also be an aspect of his wider ecumenical dialogue?
Exhibition Information
Performing No Thingness. An exhibition of work from the late 1960s, curated by Nicola Simpson, featuring Dom Sylvester Houédard, Kenelm Cox and Li Yuan Chia.
The East Gallery, St Andrews Hill, Norwich NR2 4AE
Open 12 noon to 5pm, Tuesday to Saturday until 29th October.