The Beshara Trust has recently supported the publication of a collection of poems by Shane 'Wakil' Jagger, entitled: "My Heart Is Too Big For My Pacemaker".
Here Christina Mark introduces Shane and his poetry, on behalf of the Beshara Trust.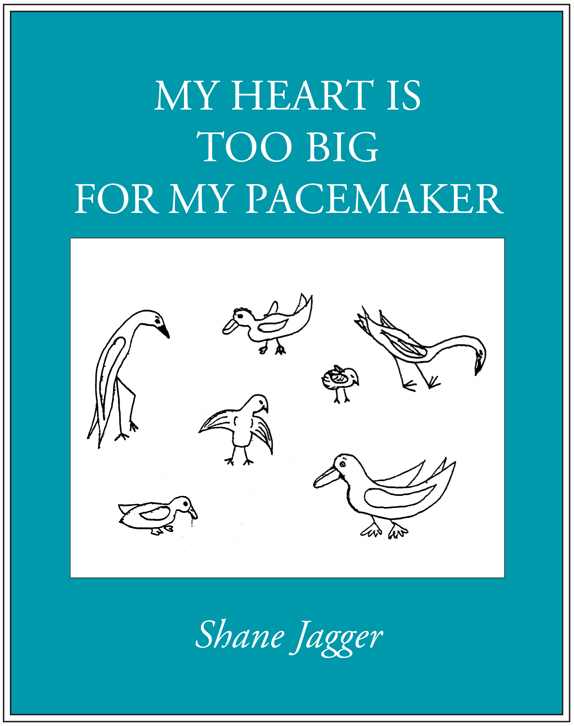 Neville Shane Jagger is 55. Born in Hull, he describes his childhood as lovely, despite his mother dying from kidney disease when he was twelve years old. His father gave him endless support, including the gift of a shed, complete with a radio, where he spent many quiet, reflective hours, keeping notebooks, painting pictures and and writing poetry. He thought of it as "Leonardo's Den", inspired by Leonardo da Vinci, who withdrew into seclusion to contemplate and write about the proportions of the human form, the flight of birds and to design the prototypes for parachutes and tanks, amongst many other things.
Shane was also a sportsman, playing rugby so well that he was selected for a trial for the East Riding County team. However, he stopped playing rugby when he left school at eighteen, with no formal qualifications but a good fighting spirit, undoubtedly helped along by his experiences in the front row of the scrum!
During this period Shane read every poem he could find, including those of Dylan Thomas, TS Elliott, Walter de la Mare, Wilfred Owen and Christy Brown. He memorised some of them, and wrote his own as well. These, he decided, became too self-centred, so he set alight to them, and planted potatoes in their ashes. When he dug up the potatoes, he boiled them and served them with mint and butter – remembering them as the most delicious that he had ever eaten.  He can still recite quite a few of the poems.
Shane did not read or write any poetry for many years, apart from studying the poems of great mystics, such as Muhyiddin Ibn 'Arabi, Jalaluddin Rumi and Abd ar-Rahman Jami, as a student at the Beshara School of Esoteric Education at Chisholme House, until he was asked by Richard Gault, the current principal of the school there,  to take up his pen again. Unable to continue cooking meals in the kitchen at Chisholme, due to the kidney condition that he had inherited from his mother, he began to seek inspiration for the right words to come into his mind. Every morning he awoke at 3.00am, drank a cup of coffee, smoked a cigarette and put his pen to paper. He describes the process as though he was talking to someone; the words flowed out of his mind on to the paper, until they reached their natural conclusion. It was as though the inspiration 'ran itself out', after which he would feel tired and drained of all energy, as if everything had been cleared out of him.
Shane believes that the heart of the inspiration came from something far bigger and vaster than him, from the sheerness of life, the beauty of it, that he calls God. It wasn't a massive effort, the words came like a caprice, in the winking of an eye, as if he was writing for someone he loved.
In the poem "Love":
Love is and always will be
the greatest mystery
That ultimate ground of being
where all beauty is held
in a singular moment
Still, silent and turning
with the dignity
of a majestic heart
Love is one and all
encompassing the reason
for all existence
Writer and restaurateur Christopher Ryan observes: "he returns us to the love which 'always remains the greatest mystery'; his words demand an attunement of the inner ear, for his ideas are presented as simple facts and straightforward ideas, which transform into tastes at once subtle and unadorned, simple and refined….."
Shane  describes these poems as his testament,  his legacy of what life means to him.
In the poem "Onion":
Today I am like an onion
Sad with separation
Grief makes me cry
Chop and cook me gently
Add a little saffron for joining together and laughter
Serve me to those whom I love
Academic and translator of Rumi Professor Alan Williams comments: "with breath taking speed he gives us the image, and moves from vegetable to kitchen chopper, cook, to the table and the guests who will consume it – all with a simple plea for tenderness. Here is an optimism that is a lifetime of pain away from naivete, sensitised by his vulnerability and the caring he has received, and which is acknowledged on every page of this wonderful book. It is a lesson about love – thank you, Shane".
Shane does not believe that life ends with death.  In "Life" he writes:
Death comes to us all they say
But that's not the end of it
it doesn't end here
Death is a change of state
Each aspect of a person is
taken on a return
to its origin
Death then
Is returning to that single point
Where the request to
live began
Dying is not an end
Life to life – no fear
There are many worlds
Love was and is
the only reason for this change
Author and traveller Roger Norman is 'surprised' by the words "each aspect of a person is taken on a return to its origin", and astonished by "the request to live". He notes the 'authority of Shane's voice' as he treads untrodden ground, inspired by the words that flowed like a channel through his mind. He also refers to the poem "Visiting", where Shane writes about angels:
Soon they visit some hearts
though they won't find them
except by singular
intention and concentration
on the giver of all hearts
Here they will be found
In the love of an open mind
free of worry
and clean of all clutter
Here they will be waiting
knowing they are to be found
and accepted
like an old memory
of long before
These hearts are blessed
with eternity
and extraordinary happenings
will subtly occur
Roger says: "How I love that 'subtly'! That whole sentence! It is what I have wanted, all these years."
Shane says that he surprised himself in completing this series of poems and is very glad that he was able to accomplish the task. He believes that it was made easy and simple, because the words came from a source far greater than him.
"Shane Jagger's poems are not for the half-hearted", says Christopher Ryan, "though they are certainly a restorative for the broken-hearted lovers, whose yearning is for those mysterious beauties beyond the world's more obvious attractions, and whose hearts outpace even the pacemakers…."
"My Heart is Too Big for My Pacemaker" is available for £10.00 including P&P worldwide from The Chisholme Institute. 
A second, expanded edition of the book is in preparation. It will be published by Beshara Publications.