What is a well-integrated spirituality? The practical wisdom of Ibn ʿArabī
September 12, 2018 (6.30pm)
Venue: Sydney Mechanics' School of Arts (SMSA), 280 Pitt St, Sydney NSW 2000, Australia
Event Description
A talk by Jane Clark exploring some of the practical implications of Muhyiddin Ibn ʿArabī's teaching, and asking how can we integrate these into our lives in the 21st century?
Presented by Beshara Australia. Free. All welcome. Refreshments provided.
For further information, please contact:
Anne Tierney
Tel: +61 (0) 431 607 528
anloti@optusnet.com.au
Course / Event location
Sydney Mechanics' School of Arts (SMSA), 280 Pitt St, Sydney NSW 2000, Australia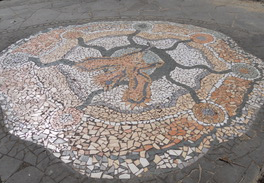 A mosaic artwork depicting the original Kulin clans of the Melbourne region, i.e. the Aboriginal or First Nations People of Australia. The mosaic is inset on the ground near an ancient, sacred tree in the inner metro suburb of St Kilda.