Hugh Tollemache's obituary of Bulent Rauf originally appeared in Issue 3 of Beshara Magazine, published in autumn 1987. The original typescript of the obituary was recently added to the Beshara Trust Archive, and can be viewed beneath the text version below.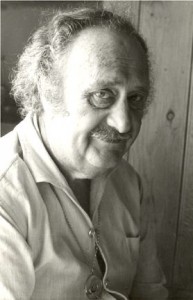 Bulent Rauf was the consultant to the Beshara Trust from its inception in 1971 until his death on September 5th 1987.
In the passing of Bulent from this life to the next, we have lost a true friend and a wise counsellor. We mourn deeply at his departure, however inevitable.
Most obituaries deal with the past. For Bulent, I would like his obituary in this magazine, which will be read by many who knew him well, to deal with the future. No eulogy would do justice to this extraordinary man, and doubtless a biography will be written at some later stage.
It is important to understand that there was something that Bulent embodied that we need. He often said that he was just a signpost, pointing the way to those who recognised that he knew what they were looking for. He avoided in any way being a teacher or guru figure, being strongly critical of those who interpose themselves between the seeker and the sought.  "Don't look at me; look at what I see. Don't love me; love what I love". For Bulent to be more than a great man of the past, we must look at what it was he embodied, and become that ourselves. Where we saw his humility, be that; where we saw his constancy, be that; where we saw his knowledge and understanding, be that. Otherwise his work will have been to no avail.
He was told in 1966 by someone he had never met before in Istanbul to go to England. He knew that this was an order of a different level.  "Don't you know that you are required in England? We have been waiting for you for a long time, stop wasting your time and go." He had no idea what he would expect in England , nor what he was supposed to do, but the order was compelling and he arrived in England. After some time he was working in an antique shop when a man came in talking about a lecture on Ibn 'Arabi, and Bulent said that he would like to listen as he knew a little about the subject. From then on he realised that he had not been sent to England by chance, and a series of remarkable coincidences occurred which demonstrated to him that his real work had begun. Her was fortunately able to read the old Ottoman Turkish and was therefore able to translate the exceptionally difficult commentary on Ibn 'Arabi's 'Fusus al-Hikam' by Ismail Hakki Bursevi – an immense work which is being published in five volumes, and which Bulent regarded as the most important contribution to esoteric literature, mapping as it does so comprehensively the Spiritual landscape. He was Life President of the Ibn 'Arabi Society.
It was evident that only by an intimate knowledge of the most profound spiritual stations was he able so clearly to imbue the listener with understanding. His attention was constantly on that highest goal that Man can attain – Union with God, and all questions and actions were transformed towards helping others to appreciate that goal. In the best Socratic tradition, he illuminated with infinite patience the perennial wisdom summarised in the Delphic oracle inscription "Know Thyself".
His varied life and broad interests enabled him to relate his spiritual knowledge to many other fields. An Archaeological scholar, educated at Cornell and Yale Universities, he was an authority on early Civilisations, and his great concern was the dilemma of modern man's lack of spiritual dimension. He was equally secure in great wealth and great poverty. He was married to Princess Faiza of Egypt until 1962. His wide circle of influential friends of many nationalities saw little of him in later years as he became increasingly conscious of the need to devote his time to educating the next generation. He was able to express himself equally clearly in the language of Christian, Moslem, Jew, Zoroastrian, scientist and even apparent atheist, and many looked to him to explain the meaning of their own traditions. He had no time for the religious bigot nor for dogma.
His wife Angela, whom he married in 1973, was a devoted wife who fortunately understood the demands made on him by the many who looked to him for advice. He always had time for us, knowing that he had much to do in a relatively short time. He was accosted by one lady who said:"I have two weeks holiday and would like to understand it all before I return." To which Bulent's reply was: "It can take two seconds or two thousand years; it all depends on you." Angela was a great support to him and an influence whose importance cannot be quantified. Our heartfelt condolences and love go out to her at this time.
Bulent was confident of the future of Beshara; he had few doubts about the future when he reflected upon what the present encompassed. He often said that most leaders were unwilling to make sufficient preparation for the time after they died, and that the inspiration so often died with them. Remarkably, without establishing dogma or rules, he was confident that Beshara would continue to develop in its correct way. It is up to those who understood him to live up to that confidence.
A photograph of Bulent is interesting and gives a partial and surface view of the man. For this reason Bulent seldom allowed his photograph to be taken. Equally, this obituary is like a photograph, giving only an incomplete impression of a complete man.
Hugh Tollemache