A report by Beshara Australia on the talks and course presented by Jane Clark during her visit to Australia (August-September 2018)
Around 60 people crowded around the seminar room at The University of Melbourne's Sidney Myer Asia Centre, mid-morning on 31 August to hear Jane Clark talk about, Learning from the natural world: Ibn 'Arabi on the wisdom of the animals, plants and minerals. Kindly organised by Dr Muhammad Kamal, Lecturer, Arabic and Islamic Studies at The University of Melbourne and presented on behalf of Beshara Australia (BA), the subject matter resonated well with the audience, several of whom contacted Jane afterwards wanting to learn more.
One student who attended said she was very interested to hear about the importance that the natural world has on our spiritual condition and about the importance it has in the current global context, and via subsequent email correspondence with Jane, posed other questions for her. At the conclusion of the event, Dr Kamal, thrilled with the attendance and interest especially from among his students, said we must do it again next year!
BA is most grateful to Frank Youakim and Tibor Szakacs for creating a very professional recording of Jane's talk.
Learning from the natural world: Ibn 'Arabi on the wisdom of the animals, plants and minerals
The theme of Jane's talk in Sydney was What is a well-integrated spirituality? The practical wisdom of Ibn 'Arabi and "it left me with the taste of a little jewel," Anne Tierney remarked afterwards.
Another attendee noted: "Jane's short talk certainly brought up fruit for thought for me especially around love and compassion and adab (tact) towards other living beings." The conversation afterwards was lovely, long and intimate and as a result, it seems the Sydney study group has gained some new friends. Around 20 people attended the talk held at Sydney Mechanics' School of Arts (in the city), the evening of 12 September.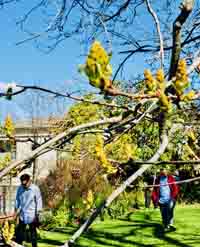 Following these talks, Jane facilitated an intensive, non-residential, 8-day course held at the property 'Armagh', headquarters of the Initiative of Change international organisation based in the Melbourne suburb of Toorak from 15-22 September.
Jane covered extracts from four of the five sections of The Holy Spirit in the Counselling of the Soul, (Rūḥ al-quds fī manāṣaḥat al-nafs), using much material which is as yet unpublished. This included outlines of a cosmological framework for understanding the place of the human being in the universe, and consequently, our correct attitude towards other living beings, engendering interesting enquiries, thoughtful conversation and giving students much to contemplate on all levels.

Twenty two people, including two from Indonesia, joined others from interstate and around Victoria, gathering daily in Armagh's gracious Reception Room. (The property itself is reminiscent of Chisholme House). The quality and beauty of what occurred inside was reflected outside with the glorious weather conditions encouraging bursts of Spring flowers and blossoms in all the garden beds.
Rosemary Rule
Secretary, Beshara Australia
September 2018
What is a well-integrated spirituality? The practical wisdom of Ibn 'Arabi