The Beshara Trust is sad to announce the deaths of two long-standing friends, Mhairi MacMillan and Colin Looker.
Mhairi MacMillan
18th April 1941 – 23rd February 2018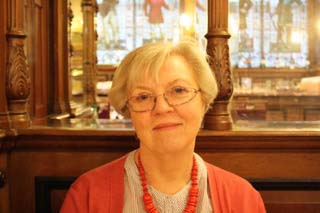 Christina Mark talks to Dot Clark, Mhairi's friend and colleague.
Mhairi MacMillan arrived at Chisholme House in 1996. Having been a student of esoteric education for many years, she then took the Six Month Intensive Course at the Beshara School in 1997.
Her friend Dot Clark recalls their writing a book together about Person Centred Counselling, and having to do the proof reading on her own, while Mhairi was studying the Oneness and Uniqueness of Being in the Scottish Borders.
Mhairi began her working career as a science teacher, later joining the staff of an innovative Community School in West Lothian where her interest in developing the total potential of students led her to study the Person Centred Approach (PCA) to counselling and psychotherapy.
She moved on from teaching to become a Person Centred Counsellor, at first as head of a university student counselling service, also writing books, attending and facilitating groups, speaking at conferences and forums, working with many people including university students and people on Beshara courses, for the rest of her life.
Dot remembers the strength and the solidity of her presence, and the quality and quietness of the attention that she gave to people. "She could be very clear minded and fearless, cutting through to what was really important. She also had lightness and humour, alongside her capacity to listen deeply to others."
Mhairi believed that her study of the writings of Ibn' Arabi complemented the PCA and that this relationship could be illustrated by the famous gestalt image of the Rubin vase, which can be seen either as two profiles facing one another, or as a single vase.
She presented her final paper at a Person Centred Forum in Argentina last November, where she talked about five areas of relationship, the final one being the one with death.
Mhairi had a deep love of Scotland, and of the sea, and returned to Largs on the Firth of Clyde for the last few years of her life, to be closer to her family and to enjoy the benefits of the West Coast. She had a deep commitment to life, which she lived as fully as possible without making much reference to her own personal history.
However, she has without doubt left many loving memories with her daughter Fiona, who described her as being 'beautiful – inside and out', and her son Jeremy, who says: 'She was a good one', and with her grandchildren, her friends and colleagues in the PCA, and her companions from the Beshara School at Chisholme House.
A Tribute from the Beshara Trust
Our recent Trustees' meeting in London (23rd March 2018) began with thoughts of Mhairi MacMillan and a grateful recollection of the help she gave to the Beshara Trust in the past.
In 2014 she generously volunteered her counselling and group work skills to act as facilitator for a training day in Hawick. Our aim was to explore the values and modus operandi of the Beshara Trust.
What came out of these discussions, elicited with subtlety and great professional skill by Mhairi, was a wonderfully clear and succinct account of how we wish to work with one another, with supporters of Beshara and with other organisations and individuals who share, at least in part, the aims of the Trust.
What emerged from the day was a deeper understanding of the wisdom which underpins the requirement for Charitable Trusts to consult amongst themselves. This means taking the points of view of all Trustees into account and taking joint responsibility for any decisions made.
Our activities as a Trust were summarised under 3 main verbs:
Initiate – The Beshara Trust initiates and supports events, including lectures and talks, such as the annual Beshara Lecture, seminars, conferences, as well as short courses. The Trust is also the publisher of beshara.org and the Beshara Magazine.
Collaborate – The Beshara Trust is open to collaborating with like-minded organisations and individuals over joint projects or events.
Facilitate – The Beshara Trust can help facilitate those who wish to put on an event under the name of Beshara by offering practical and financial help.
These remain a clear summary of what the Trust does and how we operate. As anyone responsible for an organisation or project knows, clarity on the essentials is hard won but vital to its success.
This is just one small example of the help Mhairi gave to those involved in Beshara and in running Beshara courses, for which we remain indebted to her.
Azim Colin Looker
10th February 1952 – 26th March 2018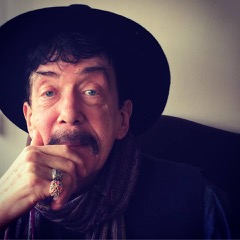 Christopher Ryan pays tribute to a dear friend – a dervish of many colours…
Azim Colin Looker was a true dervish of many colours; colours as intensely bright as the vast canvasses upon which he expressed the vast and beautiful vision with which his generous spirit had endowed him. And yet, behind the colours, informing the patchwork cloak of his wide knowledges and interests, both worldly and esoteric, lay a profound certainty in the single pure light of existence. Twice at an early age he had had an experience of death, and the effects of this experience transformed him and informed his endeavours throughout his life. This underlying certainty carried him through personal difficulties with which he struggled for many years. He was first to admit life had been very hard at times. But in the end great good won out, as his later years, particularly since meeting his beloved partner Baitha Bahar Aykaç, showed.
Having deeply immersed himself in the writings of Gurdjieff, Azim became involved in Beshara after he was introduced to Bulent Rauf by Stephen Hirtenstein. Azim completed the two 6-month Beshara School Intensive Courses in Esoteric Education at the Chisholme Institute in Scotland between 1982 and 1984. One night the 13th-century Turkish saint, Haci Bektaş Veli, appeared to him in a dream. Azim immediately told Bulent who bought him an air ticket to visit the saint's tomb near Nevşehir in central Turkey. Here were planted the seeds of Azim's great love for Anatolia, and the special connection to Haci Bektaş Veli continued throughout his life.
While on a Beshara trip to Turkey in the early 2000s, Azim was suddenly inspired to part from the group and remain in Turkey. Then one day in 2012, while visiting the tomb of the Turkish saint, Aziz Mahmud Hüdai Efendi in Üskudar, I saw, across the room a man in prayer, a face I recognised. It was Azim. We drank coffee together on little rush-covered stools in a lane nearby. After some initial catching up, I mentioned the Beshara 'Discovering Unity' courses that had just been introduced at Chisholme, and Azim was immediately taken with the idea of holding such a course in Istanbul. He and his partner, and soon to be wife, Bahar, were holding regular meetings with a group of modern young Turks interested in self knowledge and spiritual development. Azim felt that the Discovering Unity course was just what was needed to coalesce the various strands that his and Bahar's group were involved in.
In May 2013, with Bahar translating where necessary, we introduced the newly formed 'Beshara Türkiye' group to the Discovering Unity course. Twelve students undertook the seven weeks course in a flat just below Hüdai's place, overlooking the Bosphorus. For the students it was a chance to discuss without pre-conditions matters previously considered the preserve of Sufi orders or academic discourse. Azim, with his wide knowledge of Turkish Sufism, was well able to correlate, knowing the cultural references.
The question of how to nurture the values of unity, wholeness and love, in an environment that appears to be in complete opposition was brought sharply into focus during the course, which coincided with the Taksim Square democracy demonstrations. Azim's calm manner reminded all that the mystic is 'in the world but not of the world', and that the best response was not confrontation, but according to oneness and 'no other-ness'. Due to Azim and Bahar's endeavours, many such courses have been held in Istanbul and Bursa since 2013, and in 2014 they brought a group to Chisholme for a week of intensive study and meditation.
Azim's brief extended far and wide, as heartfelt posts of condolence in Facebook from friends in a range of traditions and disciplines worldwide evidence. Azim had great affection for the work of Gurdjieff and J.G.Bennett, as well as close links with the Bektaşi Dervish Order, and in his last years living in Bursa he visited weekly the tomb of Hazreti Üftade.
After a meeting one night with an unidentified insect, or perhaps a scorpion, a poisonous reaction took hold. For a week in hospital he was upbeat and appeared to be on the mend, but destiny said otherwise.
Then, in Bahar's words, 'We washed him gently with prayers, we put his 12 corner stone on his neck, we tied his Bektashi belt around his belly, we prayed for him, we hugged each other, cried and smiled…' Afterwards Bahar and friends drove Azim's body from Bursa across Turkey to Nevşehir where he was buried in the graveyard at Haci Bektaş Veli, in proximity to his spiritual father.
One close friend has written since:
The phrase 'let the dead bury the dead' comes to mind with some insistence. This in the clear awareness that the only thing that has died is a whole range of limitations, the desiderata of which currently dissolve into the elements from which they arose. These shackles are no longer needed and my Dear Azim is liberated from them… the connection between us is still alive- more direct than ever… always and forever unbound by the limitations of 'time' or 'space' or 'corporeality'… That fog is cleared away now, dancing into Essence… such friends aren't 'connections' between 'two beings' but rather a kind of 'resonance' drawing two apparent 'beings' together just so this liberation can proceed. And in it? Ah, best not say much more. 
So yes – 'let the dead bury the dead' and then, by a gesture of the imagination, I look into the eyes of my  Living Friend at the threshold of the 'mithal', and bask in the glow of Love. Here, there is no death.'
A friend from his Beshara course:
'A few days later (after his death) I dreamt he came to visit. He was so happy and light hearted and vigorous, it evaporated the shock and distress I had been struggling with.'
and from a Mevlevi dervish:
'I awoke from a beautiful dream this morning. A wonderful gathering of lovers and friends were sitting in a circle, singing songs in praise of the One. We were smiling and laughing and taking joy in each other's presence. We were bathed in golden sunlight, and feeling deeply at peace. As we sang Sem-i Ruhuna together, reaching the words 'Hazret-i Mevlanaya gelin bende olalim' ('Come, let us go to Mevlana'), I turned and there sat beloved Azim, filled with light, smiling gently.' 
by Christopher Ryan with contributions from Baitha Bahar Aykaç-Looker, Boyd Sheer, David Apthorp and Abdur Rahman Cawley.