Kathy Tiernan, author of "Place of Repose: A tale of St Cuthbert's Last Journey" and alumni of the Beshara School will be leading a five-day study tour in September 2018 tracing the saint's life in Northumbria. Cuthbert, who lived from 634 to 687, is remembered as monk, bishop and hermit of Lindisfarne.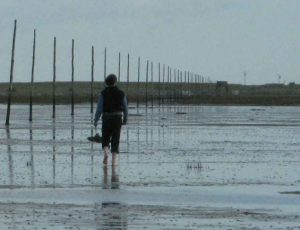 Kathy writes, "Cuthbert was beloved in his own time, but his influence continued to grow after his death. The Lindisfarne Gospels were created in his honour and Lindisfarne became a centre of pilgrimage. The Viking raids of the ninth century forced the monks to flee and the study tour will follow in their footsteps. Throughout the centuries Cuthbert has been understood as the protector of the North and of his people. His life story is an affirmation of the persistence of love beyond the vicissitudes of time and mortality and his presence remains a solace for us today".
Kathy led a similar tour in 2016 and one of the participants wrote "perhaps the most important thing for me about the trip was that it brought Cuthbert to life in the sense of being a living presence."
In August Kathy will lead a one day study tour, A day with St Cuthbert: Leader Valley to Old Melrose, which will introduce the places where St Cuthbert spent his childhood, including a visit to the Anglo Saxon monastery of Mailros.
As Kathy explains, through the spirit of the place we can start to discover our own connection to Cuthbert and his meaning.
Kathy's new novel "Cuthbert, the Making of a Saint" will be published in the Autumn of 2018.
Further details of these events can be found on the Courses & Events page.