Homecoming: The Art of Benet Haughton
An interview, talk & exhibition
Venue: The Cornucopia Room, 4 Towerdykeside, Hawick TD9 9EA UK
Event Description
Benet Haughton is an Edinburgh-based artist who also works as a psychotherapist.
In collaboration with Cornucopia Magazine, the Beshara Trust is sponsoring an Artist's talk and Q&A discussion on Saturday 12th May from 4–6pm at Unit Four: The Cornucopia Room, 4 Towerdykeside, Hawick TD9 9EA.
Booking is recommended:
Tel: 01450 379933
juliewitford@cornucopia.net
Cornucopia is host to an exhibition of Benet's paintings from May 12th – June 3rd, 2018 (11am–4pm, Tues–Sat).
Opening Reception: May 11th (from 6pm)
'Keep it simple and do it with love. In my painting I pursue the inner life in preference to the external. In one sense all art is inner if it works at all. It is all a searching, as it occurs to the painter, an expression of truth to the subject.
I value the poetic and the lyrical in painting and life and consider life itself to be an affirmation and a blessing, something to be cherished and nurtured while it is also painful and utterly impossible at times…'  Benet Haughton
Benet Haughton's interview with Jim Griffin for Beshara Magazine is published in early May.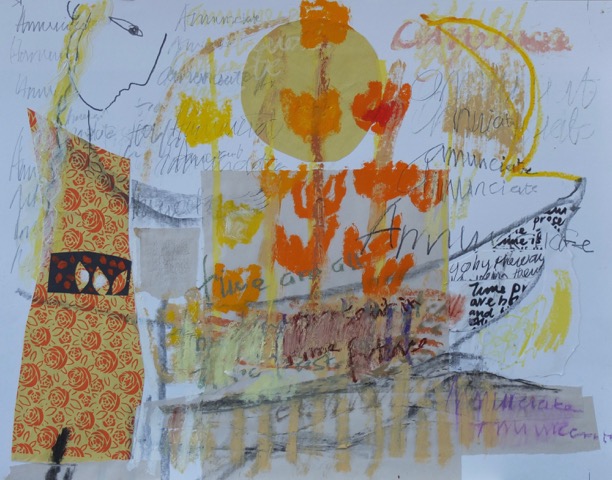 Annunciate, mixed media on paper 28x23 inches
Course / Event location
The Cornucopia Room, 4 Towerdykeside, Hawick, Scottish Borders, TD9 9EA